My Best Surrealist Object
I was beside myself upon finding this perfect naturally occurring representation of a small bird perching on something. It is named 'Loplop', after the bird character in Max Ernst's astonishing collage-novel thingies! Oh, I found it on a beach in/near Skegness!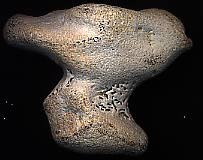 Better pictures of it some day.